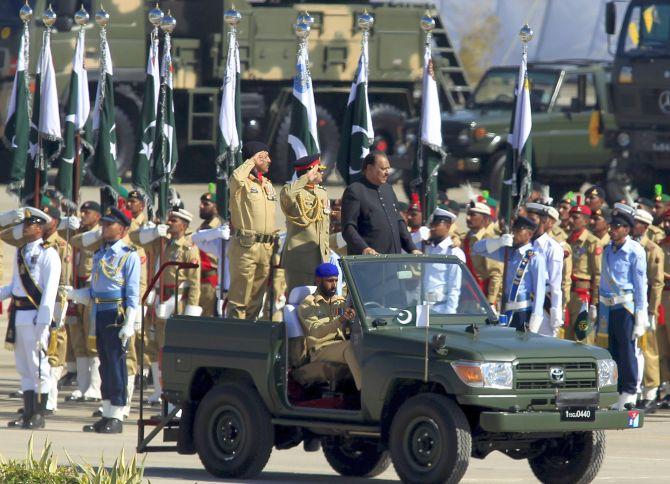 Raking up the Kashmir situation as an "unfinished agenda" of partition, Pakistan President Mamnoon Hussain on Thursday accused India of "jeopardising" regional peace via "consistent" ceasefire violations.
Speaking at the yearly Republic Day military parade attended for the very first time by troops from China and Saudi Arabia, Hussain said: "Pakistan is completely ready for dialogue with India and would like resolution of the Kashmir dispute, which is the unfinished agenda of the partition."
"We want peace and friendship with the whole earth specially the neighbours. But India's irresponsible attitude and steady violations of Line of Handle and Performing Boundary have jeopardised peace of the region," he said at the yearly parade all through which Pakistan's indigenously-produced missiles and air-defence units ended up showcased.
Hussain said Pakistan's defence was impregnable and its nuclear capabilities ended up meant to assure global and regional peace, introducing the nation was powerful emerging overall economy in the region.
The parade was for the very first time attended by Chinese and Saudi troops, apart from military band 'Meher' from Turkey.
Pakistan showcased its military capabilities all through the parade with F-16s, JF-seventeen thunders, Mirage, AWACs, P3-C Orion and F-seven presenting salute to Hussain, the event's chief guest.
Apart from Hussain, Key Minister Nawaz Sharif, federal ministers, politicians, diplomats, chairman joint chiefs of workers committee and services chiefs attended the parade.
Regiments of the Pakistan's a few forces, Rangers, Police, and Commandos marched all through the military parade.
Special security arrangements ended up put in place to avert any untoward incident. Cellular telephone services ended up suspended and streets leading to the location ended up heavily guarded.
The Republic Day marks the adoption of the historic Lahore Resolution in 1940 that spurred endeavours to build a independent homeland for Muslims of South Asia.
Graphic: Pakistan's President Mamnoon Hussain inspects the troops all through Pakistan Day parade in Islamabad. Photograph: Faisal Mahmood/Reuters
© Copyright 2017 PTI. All rights reserved. Republication or redistribution of PTI content, such as by framing or equivalent means, is expressly prohibited with out the prior published consent.