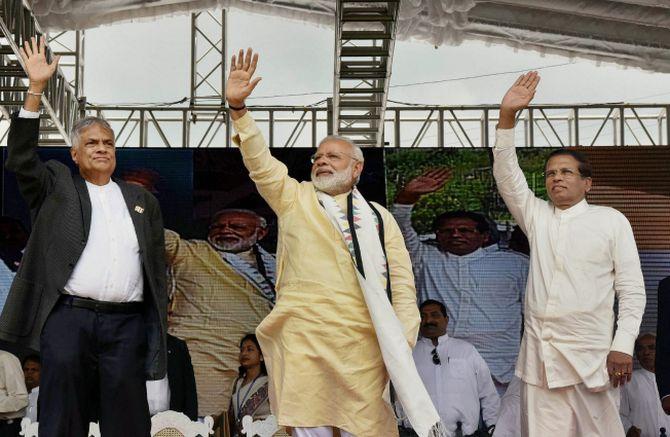 'I have a special association with tea' was how Primary Minister Narendra Modi designed an quick connect with the Tamil neighborhood customers in Dickoya in the tea-increasing Central Province of Sri Lanka.
Modi, when addressing hundreds of Tamils at a rally in the presence of Lankan President Maithripala Srisena and Primary Minister Ranil Wickremesinghe, also invoked 'chai pe charcha', indicating it was not just a slogan but a 'mark of deep respect for the dignity and integrity of sincere labour'.
He lauded Ceylon tea, indicating it was globe renowned but what was lesser known was the sweat and labour driving it.
"If Sri Lanka now is the third premier exporter of tea, it is simply because of your tough operate. It is your labour of really like which is instrumental in Sri Lanka assembly practically seventeen for every cent of the world's desire for tea, and earning much more than one.5 billion US bucks in foreign trade," Modi reported.
He hailed the Indian-origin Tamils, lots of of them tea plantation workers, indicating, "You are that indispensable spine of the thriving Sri Lankan tea industry that justly prides itself on its good results and worldwide achieve now."
Hailing the tough operate of the tea plantation workers, Modi reported their contribution was 'deeply valued' throughout Sri Lanka and beyond.
"You and I have something in common. As some of you may possibly have listened to, I have a special association with tea," the prime minister reported, in a reference to his tea-promoting days.
"These days, we bear in mind your forefathers. Those men and females of solid will and courage, who undertook the journey of their lifestyle from India to then Ceylon. Their journey may possibly have been uphill and their struggles tough, but they in no way gave up. These days, we bear in mind and salute that spirit," Modi reported.
Noting that the present-day era had also confronted relentless hardships, the prime minister reported they encountered the rigid challenge of earning their own mark and id in a recently impartial country.
Picture: Primary Minister Narendra Modi along with his Sri Lankan counterpart Ranil Wickremesinghe, still left, and Sri Lankan President Maithripala Sirisena, right, wave to the customers of the Indian-origin Tamil neighborhood for the duration of an event in Dickoya on Friday. Photograph: PTI Image
© Copyright 2017 PTI. All legal rights reserved. Republication or redistribution of PTI content, including by framing or comparable signifies, is expressly prohibited devoid of the prior written consent.